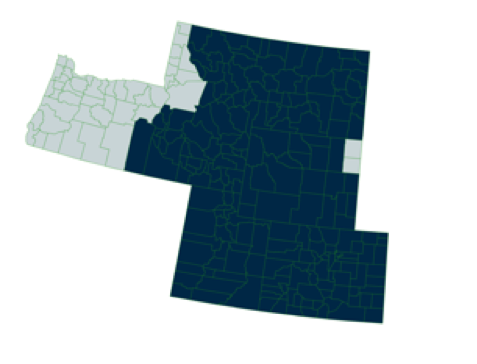 The CFC allows employees to give to local, national, and international charities. Campaign workers may only solicit contributions from federal employees whose official duty station is located within these geographic boundaries and retirees who reside in the area.
Our local campaign in the Mountain States zone includes the following geographic region:
Colorado: the entire state of Colorado.
Idaho counties of: Ada, Adams, Bannock, Bear Lake, Bingham, Blaine, Boise, Bonneville, Butte, Camas, Canyon, Caribou, Cassia, Clark, Custer, Elmore, Franklin, Fremont, Gem, Gooding, Jefferson, Jerome, Lemhi, Lincoln, Madison, Minidoka, Oneida, Owyhee, Payette, Power, Teton Twin Falls Valley, and Washington.
Montana: the entire state of Montana.
Oregon county of: Malheur.
Utah: the entire state of Utah.
Wyoming counties of: Albany, Big Horn, Campbell, Carbon, Converse, Fremont, Goshen, Hot Springs, Johnson, Laramie, Lincoln, Natrona, Niobrara, Park, Platte, Sheridan, Sublette, Sweetwater, Teton, Uinta, and Washakie.
2023 Mountain States Local Federal Coordinating Committee (LFCC)
The LFCC is comprised of local Federal officials from across the zone. These individuals serve as our campaign's governing body, providing year-round leadership and governance support to their local campaign.
LFCC Chair
Leah Rose Ruiz
Bureau of ATF, WY
Brian Dale
Housing & Urban Development, ID
Sue Johnson-Erner
Mesa Verde National Park, CO
Ronald Gevry
Schriever AFB, CO
Tom Joyce
U.S. Army, Fort Carson, CO
Cynthia Kotary
Dept. of Commerce, CO
Kevin Stocking
Buckley Space Force Base, CO
Suzanne Vaughan
U.S. Postal Service
The CFC is successful because of their unwavering leadership and support. Thank You LFCC Members!
---
Outreach Coordinator (OC) MP May, Inc.
The OC is contracted by the Office of Personnel Management (OPM) to conduct marketing, outreach, education, training, and event coordination for the local campaign.
Bruce Jacobs
Regional Director
[email protected]
Barbara Barfield
Zone Manager
[email protected]
---
Mike May
Chief Executive Officer
[email protected]
Jennifer Howard
VP/ Chief Operations Officer
[email protected]
Courtney Placke
Executive Administrator
[email protected]