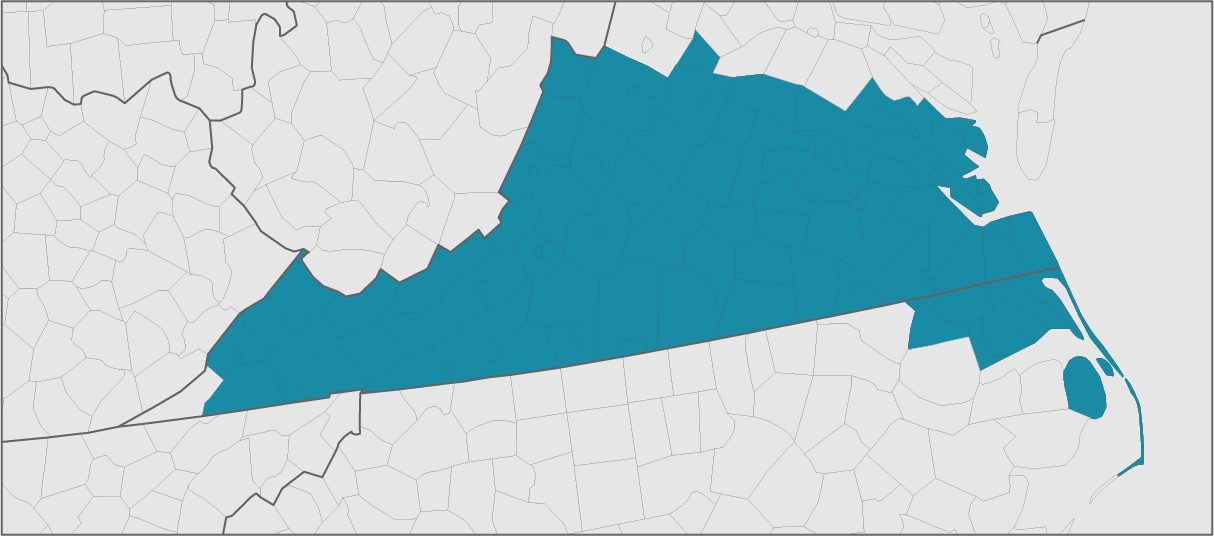 The CFC allows employees to give to local, national and international charities. Our local campaign in the Combined Federal Campaign of South Central Virginia and Albemarle Bay includes counties in Virginia and North Carolina. Campaign workers may only solicit contributions from federal employees whose official duty station is located within these geographic boundaries and retirees who reside in the area.
Virginia: Albemarle, Alleghany, Amelia, Amherst, Appomattox, Augusta, Bath, Bedford, Bland, Botetourt, Brunswick, Buchanan, Buckingham, Buckingham, Campbell, Carroll, Charles City, Charlotte, Charlottesville City, Chesterfield, Craig, Cumberland, Dickenson, Dinwiddie, Floyd, Fluvanna, Franklin, Giles, Gloucester, Goochland, Grayson, Greene, Greensville, Halifax, Hanover, Henrico, Henry, Highland, Isle of Wight, James City, King William, Louisa, Lunenburg, Mathews, Mecklenburg, Mecklenburg, Middlesex, Montgomery, Nelson, New Kent, Nottoway, Patrick, Pittsylvania, Powhatan, Prince Edward, Prince George, Pulaski, Roanoke, Rockbridge, Russell Scott, Smyth, Southampton, Surry, Sussex, Tazewell, Washington, Wise, Wythe, and York Counties; and the independent cities of Bedford, Bristol, Buena Vista, Chesapeake, Clifton Forge, Colonial Heights, Covington, Danville, Emporia, Farmville, Franklin, Galax, Hampton, Hopewell, Lexington, Lynchburg, Martinsville, Newport News, Norfolk, Norton, Petersburg, Poquoson, Portsmouth, Radford, Richmond, Roanoke, Salem, South Boston, South Hill, Staunton, Suffolk, Virginia Beach, Waynesboro, and Williamsburg.
North Carolina: Camden, Chowan, Currituck, Dare, Gates, Hertford, Pasquotank, and Perquimans Counties and the cities of Albemarle and Elizabeth. 
Local Federal Coordinating Committee
Each of the 36 local CFC zones is governed by a Local Federal Coordinating Committee (LFCC). An LFCC is comprised of federal employees and, whenever possible, members of local federal inter-agency organizations, such as Federal Executive Boards, Federal Executive Associations or, in the absence of such organizations, self-organized associations of local federal officials. LFCCs are overseen by OPM and must comply with CFC regulations and guidance memoranda, as well as meet the deadlines in the CFC calendar. LFCCs serve as an advisory board of directors for the local campaign zone. LFCCs are responsible for partnering with the Outreach Coordinator (OC) for the zone to implement the campaign and ensure its success. 
CHAIRMEN

RADM Wesley R. McCall, USN, Chair
CAPT David Dees, USN, Vice Chair
MEMBERS
CDR Melissa Chope, USN
CAPT Benjamin Davis, USCG
CAPT John Dewey, USCG
CAPT Tim Hammond, USCG
Thomas Nelson, Fort Gregg-Adams
CAPT Todd Nichols, USN
Senior Chief Siriphone Phakdy, USN
Pete Polen, NASA
MAC Lionel Reyes, USN
CAPT Jennifer Stockwell, USCG
LT Nathanial Webb, USN
Kathaleen Wright, Fort Gregg-Adams