Bay Area Turning Point
Bay Area Turning Point, Inc. provides crisis & recovery solution services for survivors of domestic or family violence & sexual assault, and facilitates violence prevention strategies for societal change in partnership with our community.
Introduction to Bay Area Turning Point
Transcript
"I am Brenda Sykes, Executive Director of Bay Area Turning Point. Bay Area Turning Point, for over 32 years, has serviced those impacted by domestic violence and sexual assault while providing outreach, education, and prevention to survivors and the community at large. It does not matter your race, ethnicity, socio-economic status, gender, sexual orientation, or religious beliefs; it can happen to you. DV [Domestic Violence] is the leading cause of death for women, especially Black women, as Harris County leads in intimate partner homicides, according to the Texas Council on Family Violence's "Honoring Texas Victims" report of 2021. Every aspect of society is affected by violence. Your gift will help us meet that need, as our largest funding source is subject to decrease, but the need of survivors has increased. We can do this together—partner with us to end domestic and sexual violence.
Bay Area Turning Point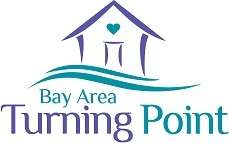 Volunteer Opportunities
Yes