The CFCNCA allows employees to give to local, national and international charities. Our local campaign in the National Capital Area/Northern Virginia includes the District of Columbia as well as several counties in Maryland and Virginia. Campaign workers may only solicit contributions from Federal employees whose official duty station is located within these geographic boundaries and retirees who reside in the area.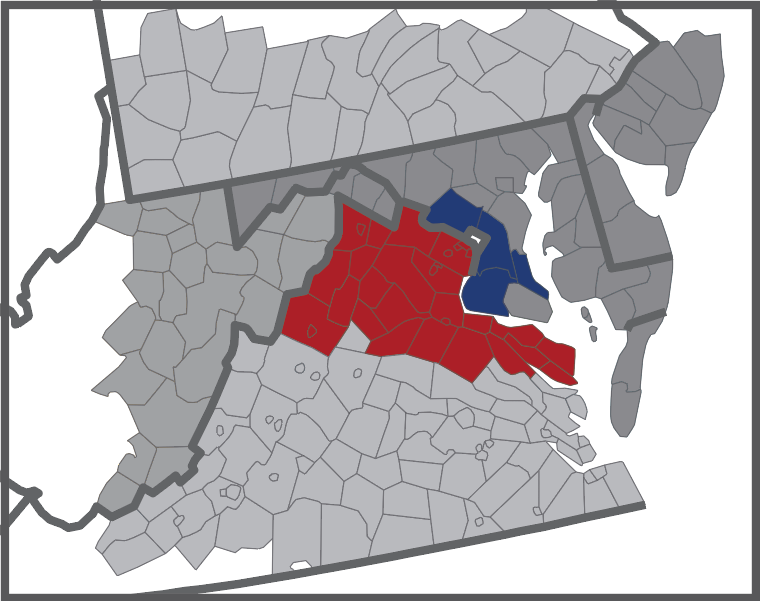 Maryland Counties: 
Calvert, Charles, Montgomery, Prince Georges
Virginia Counties/Independent Cities:
Alexandria, Arlington, Caroline, Clarke, 
Culpeper, Essex, Fairfax, Falls Church, 
Fauquier, Frederick, Harrisonburg, King & 
Queen, King George, Lancaster, Loudoun,
Madison, Manassas, Manassas Park, 
Northumberland, Orange, Page, Prince
William, Rappahannock, Richmond,
Rockingham, Shenandoah, Spotsylvania,
Stafford, Warren, Westmoreland, Winchester
 
Follow us on our CFCNCA social media: 
Facebook, Twitter, LinkedIn, Instagram
Local Federal Coordinating Committee 
Each of the 36 local CFC zones is governed by a Local Federal Coordinating Committee (LFCC). An LFCC is comprised of federal employees and, whenever possible, members of local federal inter-agency organizations, such as Federal Executive Boards, Federal Executive Associations or, in the absence of such organizations, self-organized associations of local federal officials. LFCCs are overseen by OPM and must comply with CFC regulations and guidance memoranda, as well as meet the deadlines in the CFCNCA calendar. LFCCs serve as a board of directors for the campaign zone. LFCCs are responsible for selecting an Outreach Coordinator (OC) to implement the CFC in the local zone and monitoring their work.
EXECUTIVE COMMITTEE 
Vince Micone 
Co-Chairperson 
Executive Director
Enterprise Services
U.S. Department of Commerce
Ann Van Houten
Co-Chairperson 
Executive Director, Acquisition Policy and Oversight 
Office of the Chief Procurement Officer
U.S. Department of Homeland Security
Virginia Lum 
General Counsel 
Office of Immigration Litigation, Civil Division 
U.S. Department of Justice 
William (Bill) M. Boyd, M.D. 
Secretary  
Food and Drug Administration 
U.S. Department of Health and Human Services 
Nancy Bechtol, CFM
Executive Committee Member
Retiree
Smithsonian Institution 
Christine McMahon
Executive Committee Member
Program Analyst, Executive Secretariat 
National Institutes of Health
U.S. Department of Health and Human Services
Dai Nguyen
Executive Committee Member
OSD Portfolio Lead
Office of the Director of Administration and Management
U.S. Department of Defense
Curtis Rumbaugh
Executive Committee Member
Branch Chief, Voluntary Campaigns 
Washington Headquarters Services 
U.S. Department of Defense
Alvin Shell
Executive Committee Member
Chief, Office of Security
Bureau of Engraving and Printing
U.S. Department of the Treasury
LFCC MEMBERS
Robert Boucher
Social Science Analyst
Data Management Division
Defender Services Office
Administrative Office of the U.S. Courts
Nazmia Comrie
Senior Program Specialist
Resources and Technical Assistance
Office of Community Oriented Policing Services
U.S. Department of Justice
C. Natalie Duncan
Deputy Assistant Administrator, Office of Management
Food Safety and Inspection Service 
U.S. Department of Agriculture
H. Brandon Haller, Ph.D.
Assistant Director, Physical Infrastructure Team
U.S. Government Accountability Office 
Arleas Upton Kea
Retiree 
Federal Deposit Insurance Corporation
Rama G. Latin 
ERM/MICP Manager 
Defense Human Resource Activity
U.S. Department of Defense
James A. Neumeister
Retiree
U.S. Department of Homeland Security
Allison Strickland 
Executive Management Officer 
U.S. Department of Veterans Affairs
Shane Tolley
Congressional & Intergovernmental Affairs Specialist 
Office of Justice Programs
U.S. Department of Justice