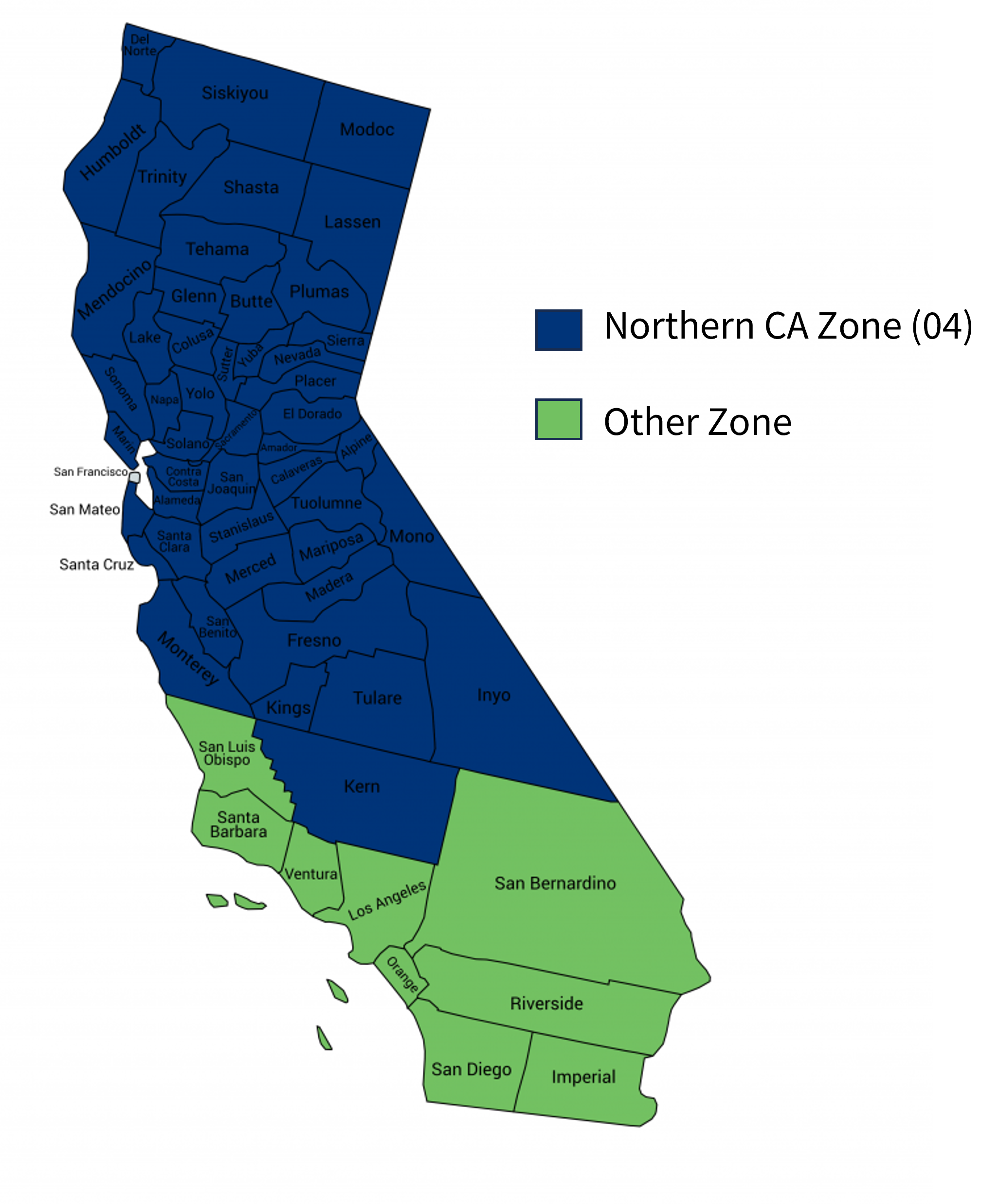 The CFC allows employees to give to local, national, and international charities. Campaign workers may only solicit contributions from federal employees whose official duty station is located within these geographic boundaries and retirees who reside in the area.
Our local campaign in the Northern California zone includes the following geographic region:
California counties of: Alameda, Alpine, Amador, Butte, Calaveras, Colusa, Contra Costa, Del Norte, El Dorado, Fresno, Glenn, Humboldt, Inyo, Kern, Kings, Lake, Lassen, Madera, Marin, Mariposa, Mendocino, Merced, Modoc, Mono, Monterey, Napa, Nevada, Placer, Plumas, Sacramento, San Benito, San Francisco, San Joaquin, San Mateo, Santa Clara, Santa Cruz, Shasta, Sierra, Siskiyou, Solano, Sonoma, Stanislaus, Sutter, Tehama, Trinity, Tulare, Tuolumne, Yolo, and Yuba.
And Naval Air Weapons Station (NAWS) China Lake (located in Kern, San Bernardino, and Inyo counties).
Each of the 36 local CFC zones is governed by a Local Federal Coordinating Committee (LFCC). An LFCC is comprised of federal employees and, whenever possible, members of local federal inter-agency organizations, such as Federal Executive Boards, Federal Executive Associations or, in the absence of such organizations, self-organized associations of local federal officials. LFCCs are overseen by OPM and must comply with CFC regulations and guidance memoranda, as well as meet the deadlines in the CFC calendar. LFCCs serve as a board of directors for the campaign zone. LFCCs are responsible for selecting an Outreach Coordinator (OC) to implement the CFC in the local zone and monitoring their work.
 
Northern California CFC
Local Federal Coordinating Committee (LFCC)
LFCC Chair
Kristin Hanaoka
Department of Veterans Affairs
San Francisco, CA
LFCC Members
Ridwana Bentley
Department of Justice
San Francisco, CA
LCDR Alex Cordenas
US Coast Guard
Joint PACAREA/D11 Command Center
Katharine (Kathy) Lee
NASA Ames Research Center
Moffett Field, CA
Melinda Posada
Internal Revenue Service
Fresno, CA
Sara Russell
San Francisco Bay Area FEB
San Francisco, cA
Jamie Wright
US Postal Service
Bakersfield, CA