The CFC allows employees to give to local, national and international charities. Our local campaign of Northern Lights CFC includes the areas listed below. Campaign workers may only solicit contributions from federal employees whose official duty station is located within these geographic boundaries and retirees who reside in the area.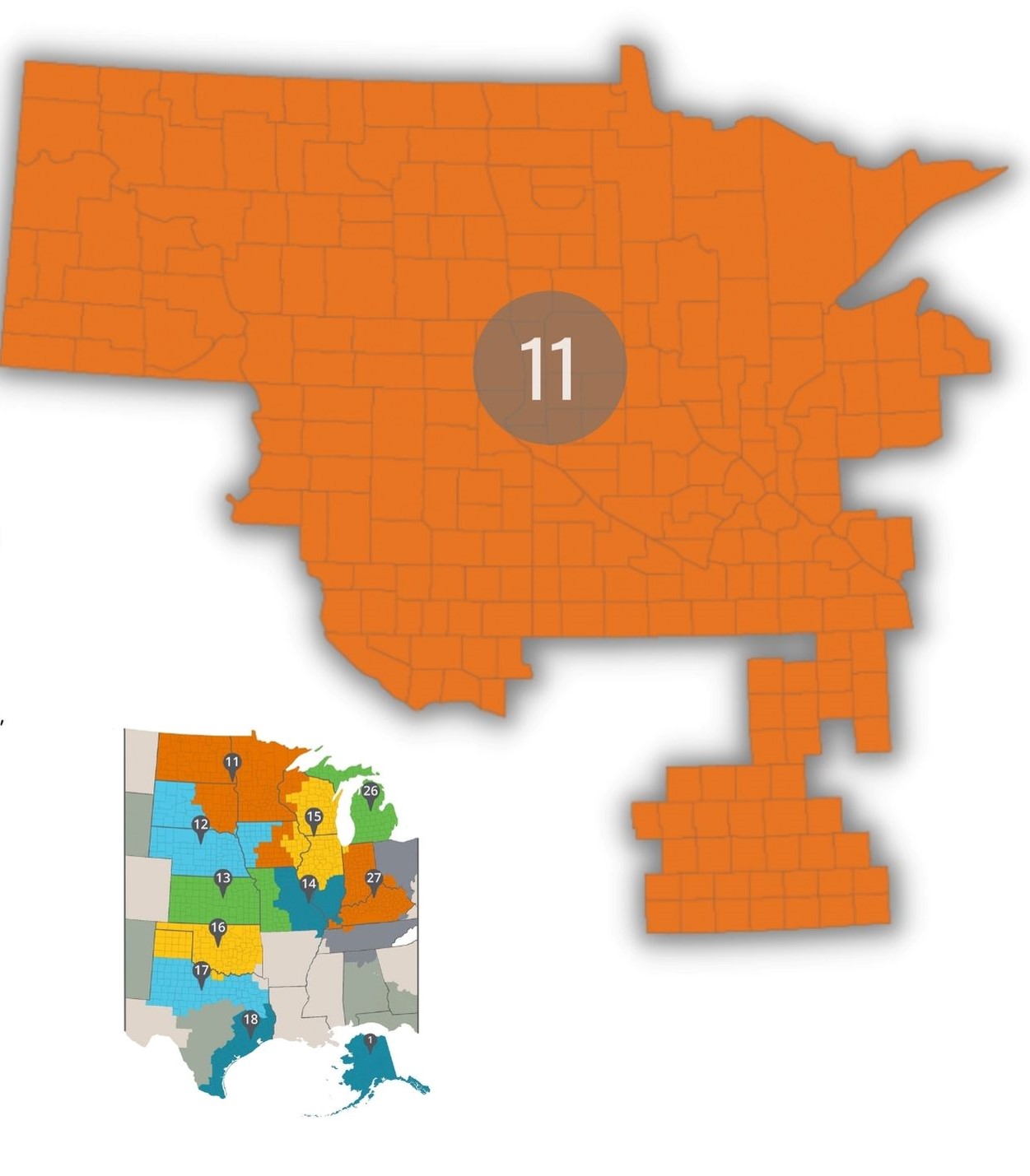 The zone comprises:
Iowa: Adair, Adams, Appanoose, Audubon, Boone, Butler, Bremer, Buchanan, Cerro Gordo, Chickasaw, Clarke, Dallas, Davis, Decatur, Fayette, Floyd, Franklin, Greene, Grundy, Guthrie, Hardin, Howard, Jasper, Jefferson, Keokuk, Lucas, Madison, Mahaska, Marion, Marshall, Monroe, Polk, Poweshiek, Ringgold, Story, Taylor, Union, Van Buren, Wapello, Warren, Wayne, and Winneshiek Counties in Iowa;
Minnesota: the entire state of Minnesota
North Dakota: the entire state of North Dakota
South Dakota: Aurora, Beadle, Bon Homme, Brookings, Brown, Brule, Buffalo, Campbell, Charles Mix, Clark, Clay, Codington, Davison, Day, Deuel, Douglas, Edmunds, Faulk, Grant, Hamlin, Hand, Hanson, Hutchinson, Hyde, Jerauld, Kingsbury, Lake, Lincoln, Marshall, McCook, McPherson, Miner, Minnehaha, Moody, Potter, Roberts, Sanborn, Spink, Sully, Turner, Walworth, and Yankton Counties in South Dakota; and
Wisconsin: Ashland, Bayfield, Barron, Buffalo, Burnett, Douglas, Iron, Pepin, Pierce, Polk, Rusk, Saint Croix, Sawyer, Trempealeau, and Washburn Counties in Wisconsin.
2023 Northern Lights Local Federal Coordinating Committee (LFCC)
The LFCC is comprised of local Federal officials from across the zone. These individuals serve as our campaign's governing body, providing year-round leadership and governance support to their local campaign.
LFCC Chair
Lloyd Billey
Department of Agriculture
Vice Chair
Sarah Hansen
U.S. Senate
LFCC Member
Valerie Decheine 
Food and Drug Administration (FDA)
LFCC Member
LuAnn McDonald
VA - Fargo
Feb Coordinator
Jason Church 
Office of Personnel Management
Outreach Coordinator (OC) MP May Inc.
The OC is contracted by the Office of Personnel Management (OPM) to conduct marketing, outreach, education, training, and event coordination for the local campaign.
Maureen Hartung
Account Manager and Area Zone Director
[email protected] OR [email protected]
---
Mike May
Chief Executive Officer
[email protected]
Jennifer Howard
VP/ Chief Operations Officer
[email protected]
Courtney Placke
Executive Administrator
[email protected]